What it is:  A company which delivers many dog related products including food, beds, clothes, toys and more.
Manufacturer: Wag.com
Where you can buy it: Wag.com
My review:
If you are like me you may like the convenience of having your pet food delivered right to your front door. Sometimes it's just easier to have it delivered, dog food can get heavy fast, and with the ease of delivery you don't have to fight for a parking spot or deal with any lines.
I always order Honest Kitchen online, which has taught me to order my next batch of dog food when I open my last box of Honest Kitchen dog food. This way I know I'll receive the next batch of dog food before I run out of my current supply. Normally it takes around a week or two for my dog food to arrive, however with Wag.com they offer free two day shipping with orders over $49.
Wag.com offers over 20,000 different pet products, free 1-2 day shipping on orders over $49, 24/7 customer support and a free return policy.
I decided to test their two day shipping claim and ordered a couple of boxes of Honest Kitchen dog food yesterday morning (Sunday.) Ordering was simple and prices were comparable to other online sites I have ordered from in the past. I clicked the button and started the clock. I expected to have to wait a few days for my order to arrive; after all I did place my order on a Sunday, but no, these prompt folks are faster than greyhounds. My order arrived at my front door on Monday morning. Wow!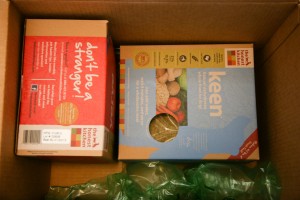 Another nice thing about wag.com is it is actually 5 different websites. You can order diapers and other baby and child items, household items, groceries, pretty much anything you can think of is on one of their five sites. You can order from all five sites with one shopping cart and have it delivered within a day or two. This is great for anyone who has a super busy schedule or just hates to go shopping.
A big paws-up to Wag.com