The Product:
Toxic free, 100% natural, hypoallergenic cleaning products for you and your pets
Manufacturer:
EarthPawz made in Canada
Where you can buy it:
Pet stores in Canada, Earthpawz.com
My review:
As a pet sitter I often have several different dogs in the back of my truck in a single day. I transport dogs to the Dog Park, vet and groomer, anywhere they may need to go. As a result the windows on my truck get a severe case of doggie nose prints on a regular basis. Anyone who has traveled with dogs knows exactly what I'm talking about. I decided my truck windows would be the perfect test for Doggie Slobber window cleaner. I sprayed it on my back window. It worked great. I didn't have to scrub too hard to remove the prints and amazingly this clever pooch specific product did not leave any streaks behind.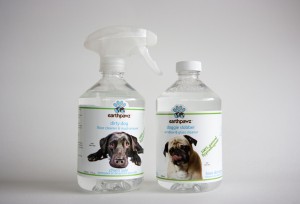 I also take a client dogs in my home while the owner is away. Over the last couple of weeks we have had a lot of rain here in Chico. As you can imagine or have experienced three dogs can track in a lot of mud. Sometimes it gets so muddy I wonder if I should use a shovel instead of a broom. However, it did give me the perfect opportunity to test Dirty Dog floor cleaner. I filled the sink 1/2 way then added 1/2 cap full of Dirty Dog floor cleaner. It worked on both my tile and laminate floor without leaving any residue, which is comforting because I don't like the idea of my pups licking floor cleaning chemicals off the bottoms of their paws.
EarthPawz products do not contain any toxic ingredients and are 100% natural.
In addition to Doggie Slobber window cleaner and Dirty Dog floor cleaner, EarthPawz also offers other pooch specific cleaning products: Doggie Grime (all purpose cleaner), Doggie Doo Doo (carpet and fabric cleaner), Thirsty Dog (Toilet Bowl Cleaner), and Smelly Dog (deodorizer).
We give EarthPawzs our highest four paws rating! We liked the results and appreciate the fact that all the products are non-toxic and 100% natural.