If you spend any time around water, whether it's for pleasure or work, you'll eventually learn to appreciate how valuable a life vest is. It's an important piece of safety equipment and saves lives everyday. Regardless of whether your dog is an excellent and powerful swimmer, accidents do happen and even the best swimmer can drown. I want the peace of mind knowing my pet will be kept afloat regardless of what happens.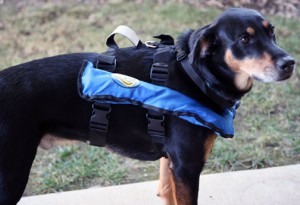 Critter's Inflatable Dog Life Vest
is an incredible life vest.  It's the only automatic inflatable dog life vest. What does that mean to you? It means if your dog has the life vest on and goes into the water the sensor on the life vest will automatically inflate the vest and keep your pet afloat. You can also inflate the vest by blowing into a tube.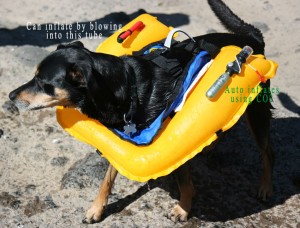 With the Critter's Inflatable Dog Life Vest on your pet you can make sure that every member of your family is equipped with a floatation device: Even the furry ones.
Here is a video of Rusty trying out Critter's Inflatable and how to rearm it.



Here is a list of features I really liked:
Comfort/Ease of Movement
Doesn't choke the dog when inflated.
Doesn't cover much of the dogs body so your dog is less likely to overheat when out of the water.
Obviously assisted in supporting Rusty's weight in the water
Placement of the Inflation device ensures the dog's head is kept out of the water even if the dog were to be knocked unconscious. (i.e. fell off boat)
Four fully-adjustable straps with quick-connect clasps (once adjusted to fit Rusty it was fast and easy to put on or remove)
Compact (doesn't get hung up on things)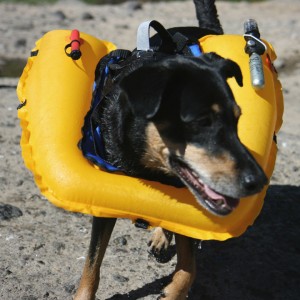 Functionality/Features
Convenient mesh carrying bag (the mesh is a good thing so the vest can dry even if put away slightly damp)
Oral Inflation Tube (For emergency inflation in the water, or for when you don't want to waste the CO2 Cartridge)
One of a kind – automatic CO2 Inflation System (Sudden inflation is somewhat noisy and startled Rusty)
Sold-Separately CO2 Rearming Kits are available
Connection D-Ring for Leash
Handle for lifting your dog out of the water
User Manual with clear, easy to understand instructions
Made from very durable materials
You want to make sure any life vest you use works well and is comfortable for your dog. If you put the vest on and all you dog does is lay down you're going to feel guilty and take it off. Having a comfortable vest is important, Critters Inflatable is super comfortable and allows your dog to move without any problems.
The only con I found was when the vest inflated was rather loud and scared Rusty for a few minutes. Once Rusty realized nothing was going to hurt him it was back to swimming and chasing the ball as usual.
As you can see Rusty was able to move around without a problem while wearing Critter's Inflatable life vest. It was very hot the day we were out and I really like the way the vest leaves most of his body exposed, which keeps him cooler when he's not in the water. Rusty and I give Critters Inflatable Life Vest 5 paws.
You can order your own Critter's Inflatable Life Vest by clicking on the link
.
Disclosure: I received a complimentary Critter's Inflatable Life Vest; I was not paid for my review and all statements and opinions are my own.