During the hot summer months, it is important to have water available to your dog at all times. Sadie and Rusty like to have their drinking water of course, but they also love having access to a small plastic kiddie pool. A kiddie pool works great when you have very limited space in your back yard but want a way for your dog to cool off.
I find the pool will last about two years until it gets a too many cracks and will no longer hold any water. Most dogs love to jump in and lay down in the water during the hottest part of the day to cool off. They hop in and sometimes even roll onto their sides. This is a great way to add summer fun to your dog's life. They will be able to cool off and have fun in the process.
Sunlight is the most destructive thing to a plastic pool, unfortunately it's also the best way to kill any bacteria and keep algae from growing in your doggie pool. I recommend changing the water out every two weeks or more to keep your pool fresh during the summer months and avoid leaving it in direct sunlight because the sunlight will cause your pool to become brittle reducing its overall lifespan.
I also like to have the pool in the shade so the water does not heat up as quickly. Moreover, dogs can get sunburn just like a human so it is better to leave the pool out of the sun to avoid your dog getting sunburned.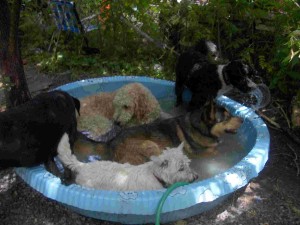 Unless you purchase a pool specifically designed for dogs
, you should buy a hard plastic pool, and not an inflatable one. Dog's have sharp claws and teeth, and they will quickly destroy any normal inflatable pool you might purchase.
Keep in mind that some dogs like to chew on plastic and a new pool may become a tempting chew toy. Make sure to keep an eye on your pooch and see how he is using his pool. If he begins to chew on it take it away, you don't want your dog accidentally eating any plastic.
In my next post I will go over the advantages of purchasing dog swimming pools.