It's that time of year when you are looking for the perfect gift for everyone on your list. Here are a few of my favorite dog  treats.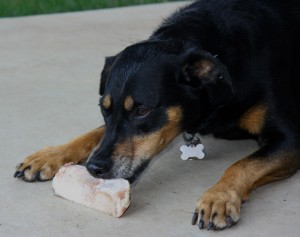 Bones are a good way for your dog to get both physical and mental stimulation, they also help clean your dog's gums and teeth. Scott River Ranch has 100% Organic bones from grass-fed cows. Make sure when you offer your dog a bone that the bone has not been cooked and that you supervise your dog while he/she is happily chewing away. Read my full review.
Barkster (read my full review here) are an incredible dog treat made with no additives or preservatives, 100% manufactured in the United States and are low-fat. Barksters come in three flavors: Sweet Potato and Chicken, Brown Rice and Beef
and Alfalfa and Liver
.
Vegitopia. These treats come in five flavors Apple
, Banana
, Carrot
, Sweet Potato
and Pineapple
. Try all five flavors and let your pooch decide which is their favorite. Read my full review.
Elk Antler
! They do not splinter or break, they're renewable and they're actually healthy for your dog. Elk Antler
have been found to have regenerative effects on joint cartilage and joint fluid. Read my full review.
Stella & Chewy's Carnivore Kisses
: Stella & Chewy's products are 100% made in the U.S.A, naturally raised meat, poultry or fish, sourced from USDA-inspected facilities, without added hormones or antibiotics.
Liver Biscotti
: No preservatives, 100% natural, made in the U.S.A and the perfect size for training.