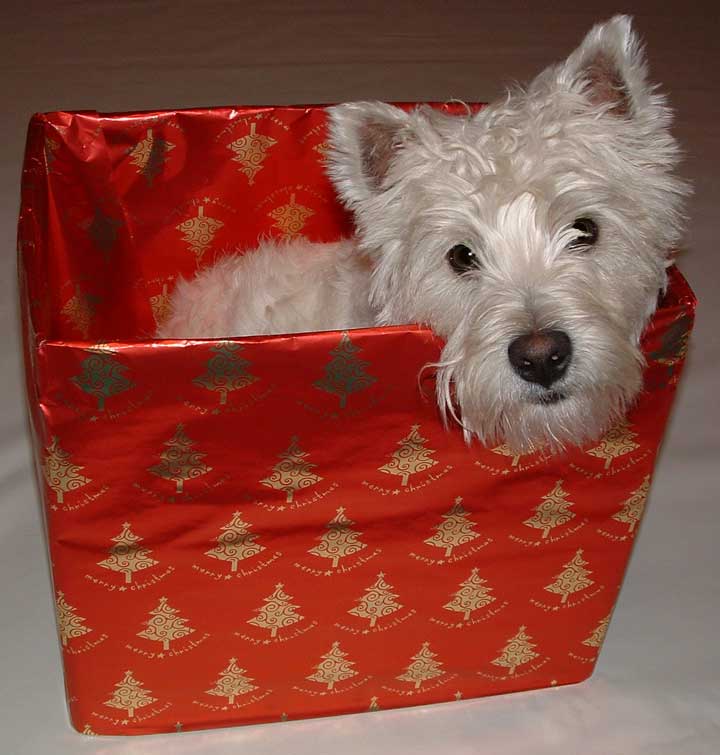 With Christmas right around the corner, I thought it might be helpful to give a few tips on how to keep our pets happy and healthy throughout the holiday season.
Several of the plants commonly purchased for decorations during the Christmas season are poisonous to pets and children, such as poinsettia and mistletoe. Choose a non-poisonous plant instead; the ASPCA has a listing of poisonous plants and non-poisonous alternatives.
Be wary of tinsel, lights, bulbs, and many other decorations on Christmas trees. These decorations are pretty and festive, but are dangerous to your pet.  Keep ornaments out of your dog's reach. What looks like a fun toy are disastrous if swallowed or chewed and result in serious damage to your pet's digestive systems.
Christmas is the time of year when we have our family and friends over for holiday festivities. Lots of people, strange smells, and loud noises can spook even the calmest of dogs. It will probably a good idea to keep your dog away from the party-goers and occupied with a long-lasting chew or toy. Sadie and Rusty love elk antlers.
While you may enjoy the holiday candies, treats and drinks be sure to keep them away from your pets. Do not reward your dog's cuteness by giving him/her a tummy ache. Many holiday treats involve chocolate and while chocolate is wonderful, it also has an ingredient called theobromine. Theobromine is lethal to dogs, and the darker the chocolate, the more theobromine it has. Also keep an eye on those candy wrappers they smell like the treat they once contained and  if swallowed they are harmful. Be strong, if you want to give your pet a sweet treat, offer your pet one of his/her favorite dog treats. Consider giving  your dog Honest Kitchen Dog Treats
.
Sweets are not the only thing to avoid feeding your dog. Steer clear of giving your pet table scraps too. Dogs only need so much food each day and most human food is not designed for your dog. Just like with sweets your food can cause problems to their digestive tract. You will especially want to avoid giving your dog cooked bones from the table; they can break into sharp splinters and cause serious health problems, and sometimes death.
If you intend on traveling this holiday season and plan on bringing your dog, make sure your friends or family do not mind. Some people are frightened of dogs, so perhaps leaving your pet in the hands of a professional pet sitter is a good idea.
If you burn candles during the holidays remember that they can pose a fire-risk, especially if they get knocked over by a curious cat or a wagging tail.
If you are thinking about getting a pet for Christmas, I suggest adopting one from your local animal shelter. There are many wonderful dogs and cats waiting to find their forever home. Both of mine, Rusty and Sadie came from our local shelter.